WELCOME TO PALMEX THATCHED ROOFING AUSTRALIA SERVICING GOLD COAST, BRISBANE AND NORTHERN NSW
Palmex is the World's #1 tropical roofing system made from eco-friendly material. It is not only aesthetically pleasing, but is helping to save the planet by preventing the over harvesting of natural palm trees.
For owners of Balinese style gazebos, Palmex Australia provides an authentic and cost effective solution to the many problems associated with traditional grass thatching.
Gone are leaking, vermin infested roofs and grass-clogged pool filters. Palmex is 100% waterproof and remains intact. It is so durable that it is accompanied by the Manufacturer's 20 year written warranty.
The industrial strength and highly resistant materials of the Palmex Australia products caters for the harshness of the Australian climate and provides a long term capital investment.
Because Palmex Australia products are 100% recyclable, off-cuts and wastage can be reused, thus contributing to the sustainability of the environment.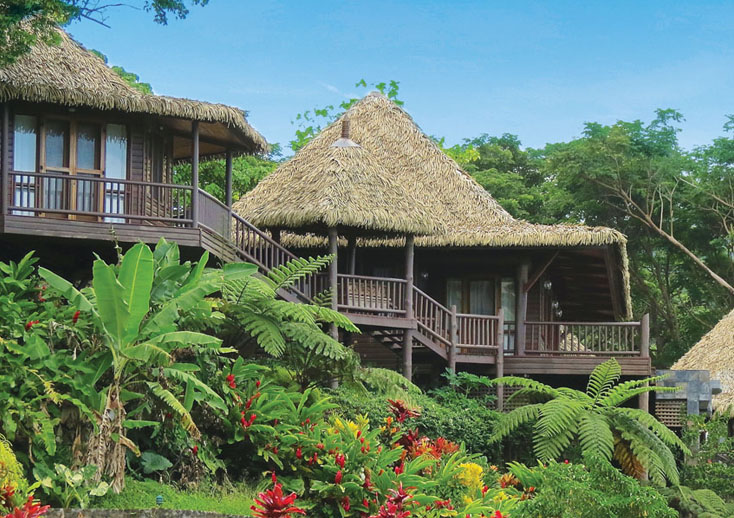 Rioha
RIOHA resembles those of palm trees found in Australia and the South Pacific.
Specifications
Available colour

Tobacco

Dimensions

+/-100 cm x 60 cm

Thickness

0.7mm
Weight

310 g/leaf

Custom Code

39.21.19.90
Palmex Australia products offer outstanding benefits

Eco-responsible
50-year lifespan
20-year warranty
Environmentally-friendly material
No toxic product fumigation
Recycled & recyclable
Zero-waste production
Reusable packaging 

Peace of mind
Quick and easy installation
No leaf replacement or repair
No maintenance or daily upkeep for the indoor areas: Cost saving 

All-weather proof
100% waterproof
Certified wind-resistance to 260 km/h (160 mph)
Certified UV- resistant and fade resistant
Industrial-strength material

Return on investment
No renovation needed = no temporary hotel closing for maintenance = cost saving
Structure protection
Replace your thatched roof for the very last time thanks to Palmex Australia.
Palmex Australia commenced operations on the Gold Coast in 2018, after 10 years based in the South Pacific where we serviced Tourist Resorts, Private Islands and residential properties in Fiji, as well as Samoa and Tonga. Palmex roofing became the preferred alternative to grass thatch and the #1 choice when refurbishing their Bures and Fales.
Palmex Australia now services all of Queensland and northern New South Wales and has built a name for itself here, as the #1 in tropical roofing.
All Palmex materials meet with the strictest global safety standards and can be adapted to fit any architectural style or roofing type.
Palmex also caters for those who wish to build a brand new gazebo and has a team of highly qualified builders and installers to undertake a variety of structures.
Palmex roofs last a lifetime. They look terrific and are maintenance free. By choosing to install Palmex, your relaxation and leisure time will be enhanced by knowing that you are now worry free. Not only that, the installation will increase your property value.
Whether building or roofing for either residential or commercial properties, the cry can be heard, "Just Palmex it!"
Palmex Australia – Your best option for Gold Coast thatched roofing
There are a few things that every household on The Gold Coast must have to ensure that they are taking advantage of the 9 months of summer that they experience. In no particular order they are:
An Air Conditioner
A Pool
A Bar Fridge
If you own those three must-haves, then you are well on the way to enjoying your Gold Coast Summer but if you want to take it to the next level you must have a Gazebo or Bali Hut around your pool to beat the heat and lounge around in. And although some Gazebo's or Bali Huts get a bad wrap for being high maintenance at Palmex we have the best solution for your Bali hut thatched roofing on The Gold Coast.
Just Palmex It!
Palmex Australia has designed and developed a thatched roofing solution on The Gold Coast that is durable, ecologically sound, looks amazing and surpasses both homeowners' needs and commercial investor expectations. All materials used by Palmex Australia products meet the strictest global safety standards and can adapt to fit any architectural style or roofing type.
Take your gazebo to the next level with Palmex thatched roofing. Maintenance-free, waterproof and with a 20-year warranty, Palmex lets you live a resort-style life at home with one easy installation. Keep the ambience without the maintenance and save time and money with three words – "Just Palmex it!"
Benefits of a Bali Hut
Apart from having your own slice of paradise at home, there are many benefits of owning a Bali Hut with Palmex thatched roofing on The Gold Coast.
Relax and unwind under your own Balinese hut where it will be significantly cooler in hot weather and quieter during rain.
Be the envy of your friends as your Bali Hut adds that extra bit of style to your home.
A great entertaining area, providing the perfect mix of cover from the elements especially shade from the sun. With your Palmex thatched roofing, you won't have to worry about constant maintenance, or cleaning the pool of fallen grass.
Will add value to your home when it comes time to sell. Bali Huts provide a great point of difference and potential buyers will reap the benefits.
There is no doubt that on The Gold Coast we spend a lot of time outdoors and whether you own a pool or are just looking to add a tropical feel to your yard, a Bali hut. Palmex thatched roofing services gold coast will transform your home overnight. With Palmex on the roof of your hut, you won't have to worry about replacing the roof thatching for years to come; in fact, the Palmex Australia products comes with a 20-year warranty but its high durability should see it last up to 50 years.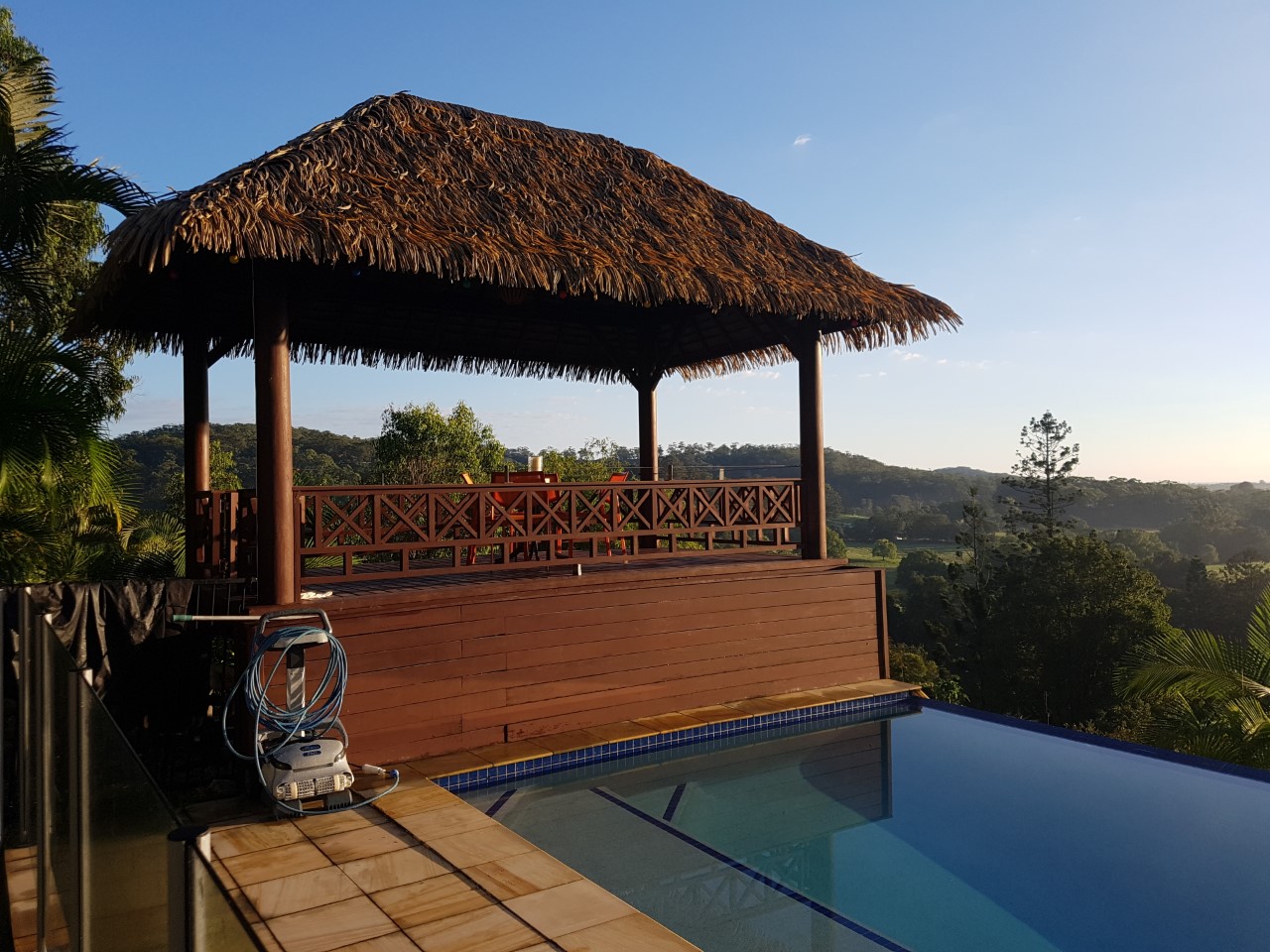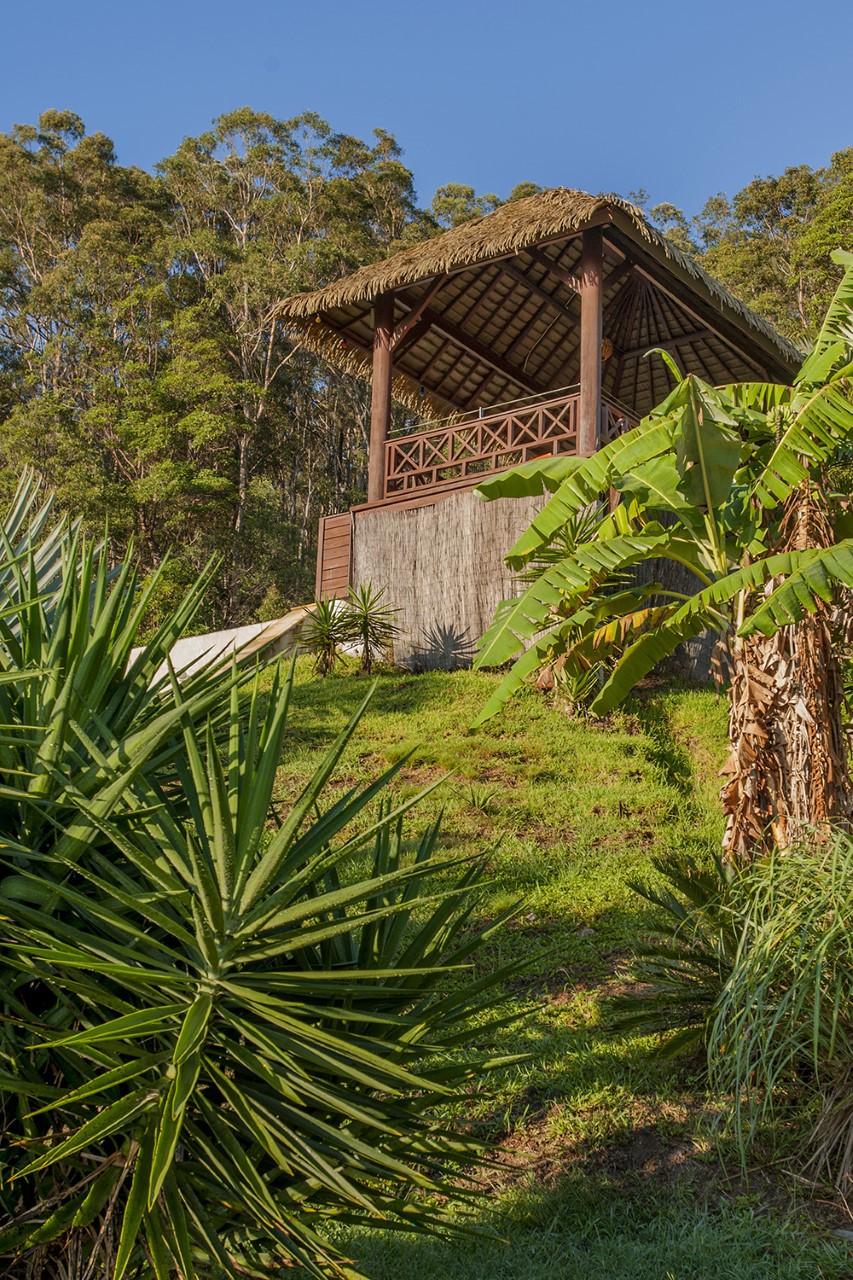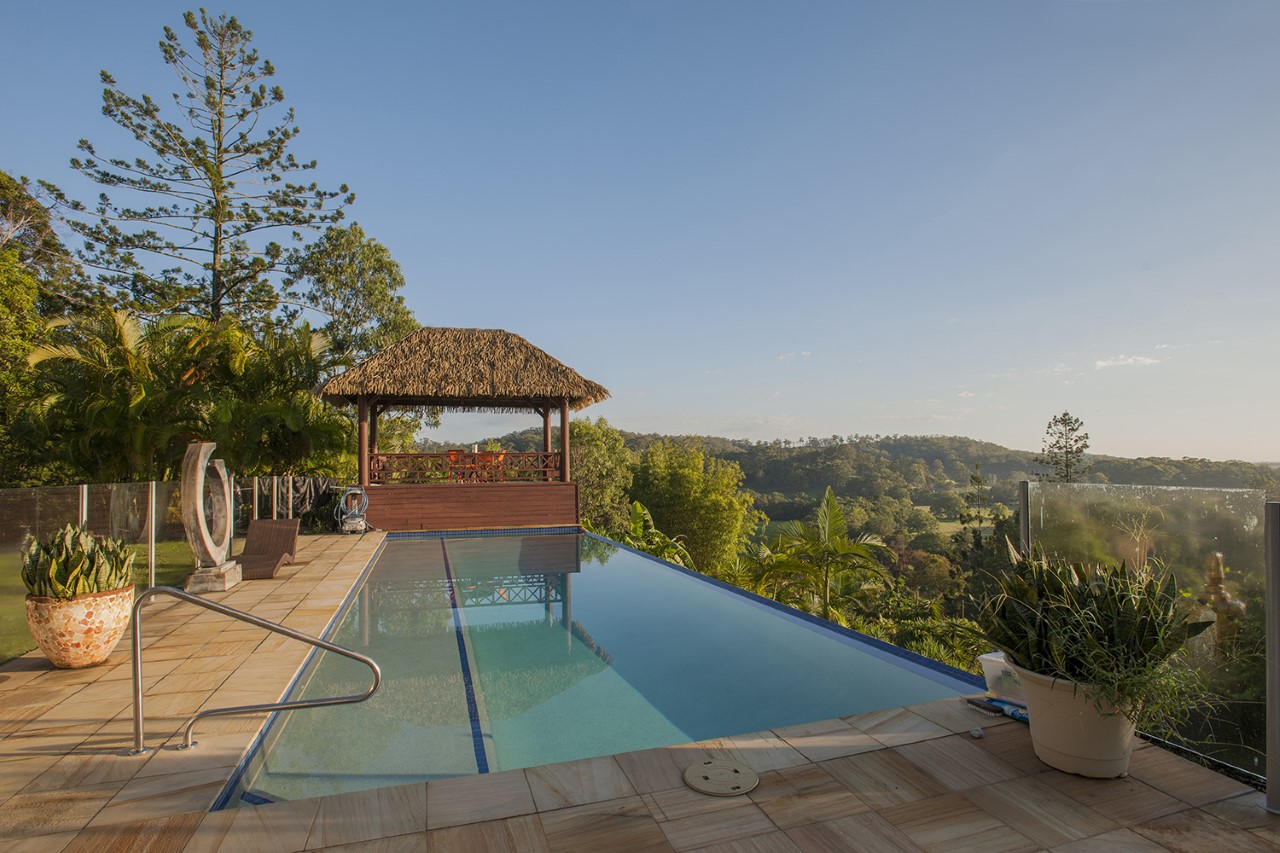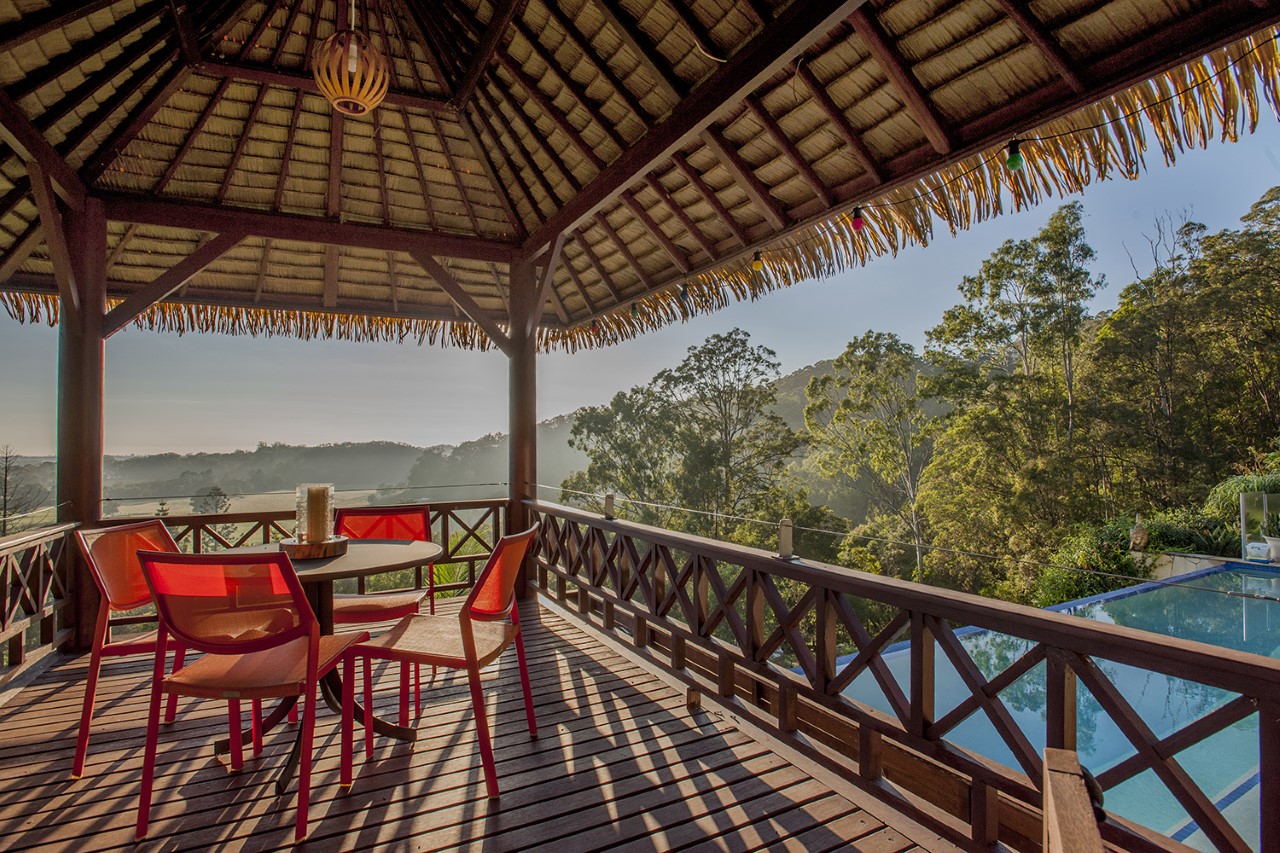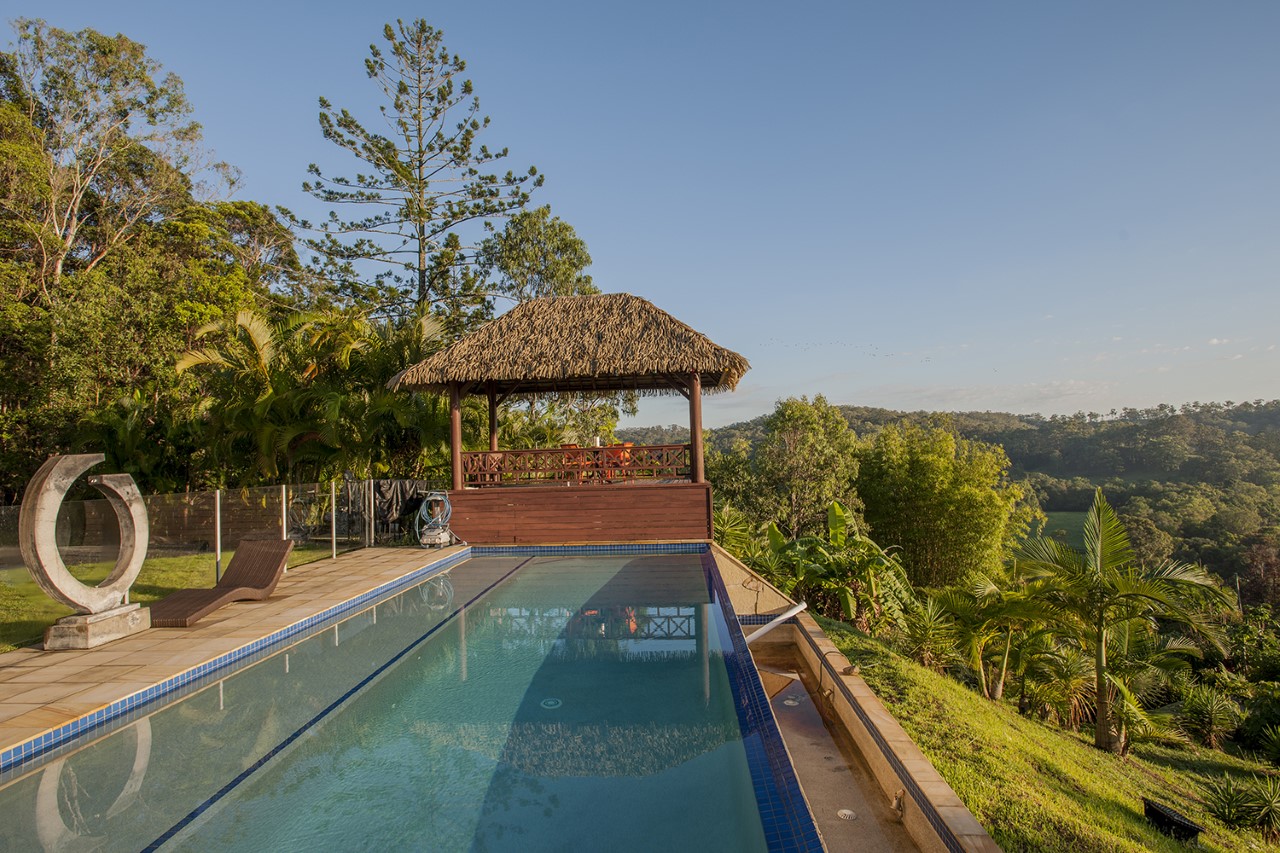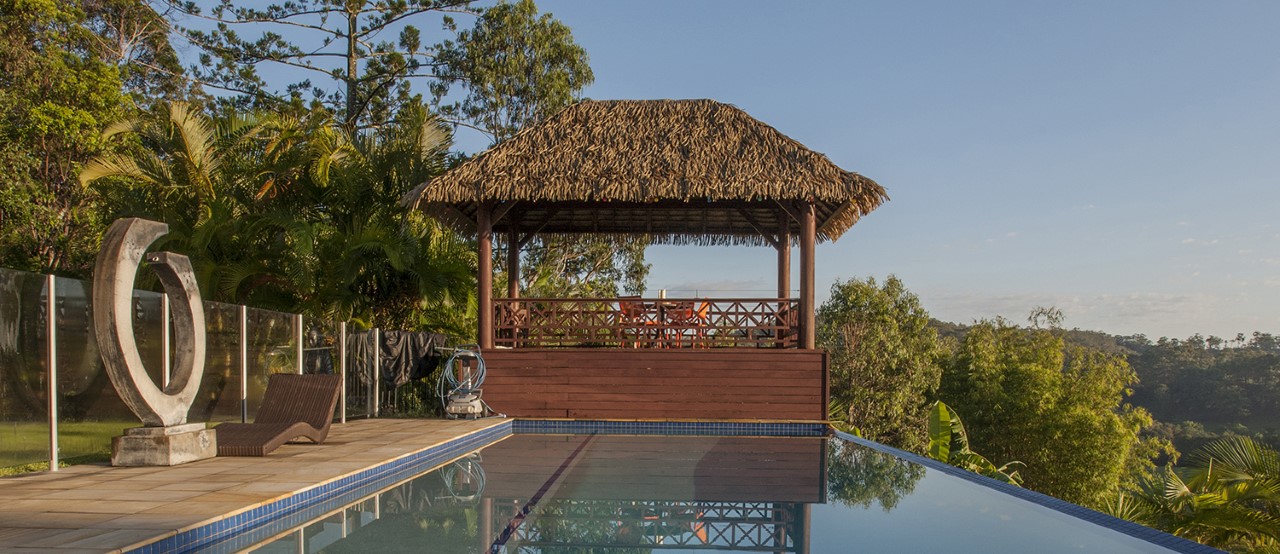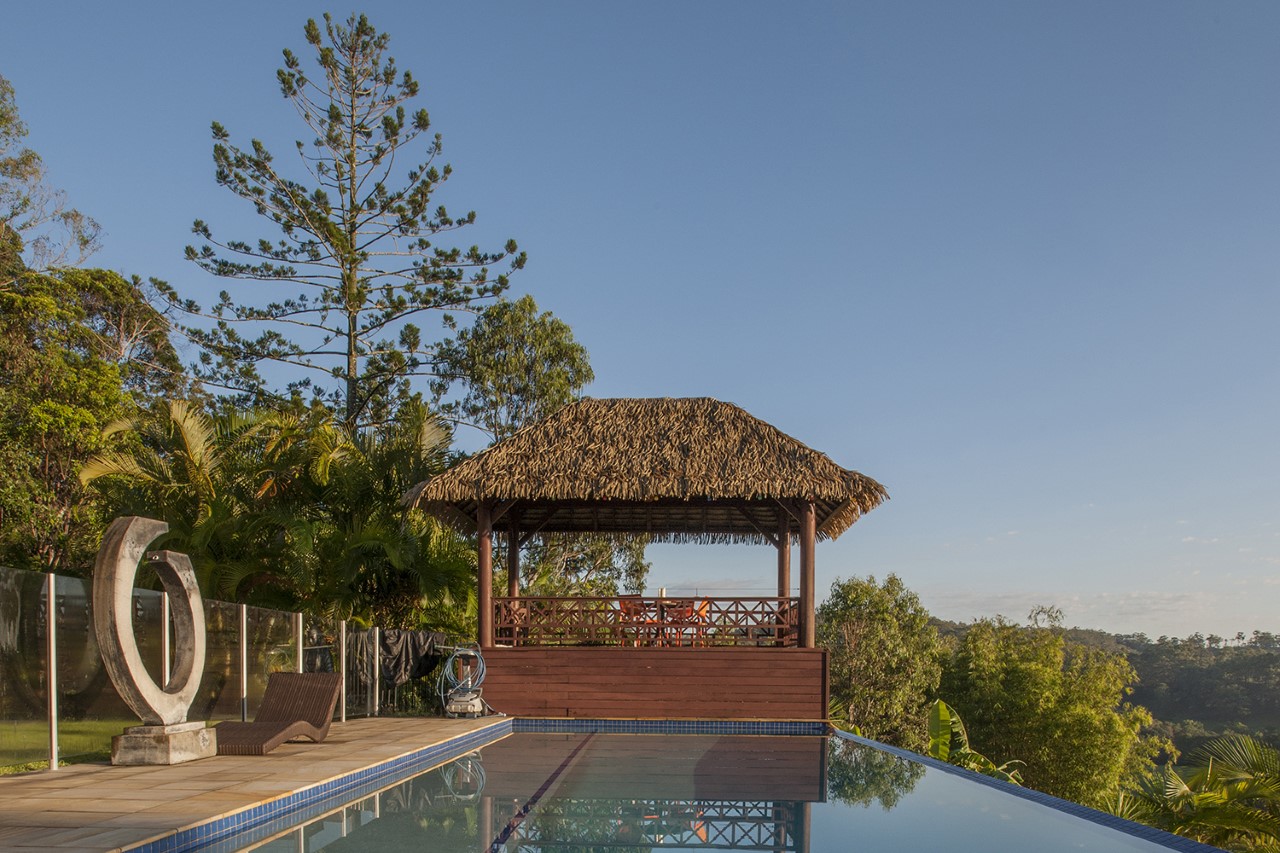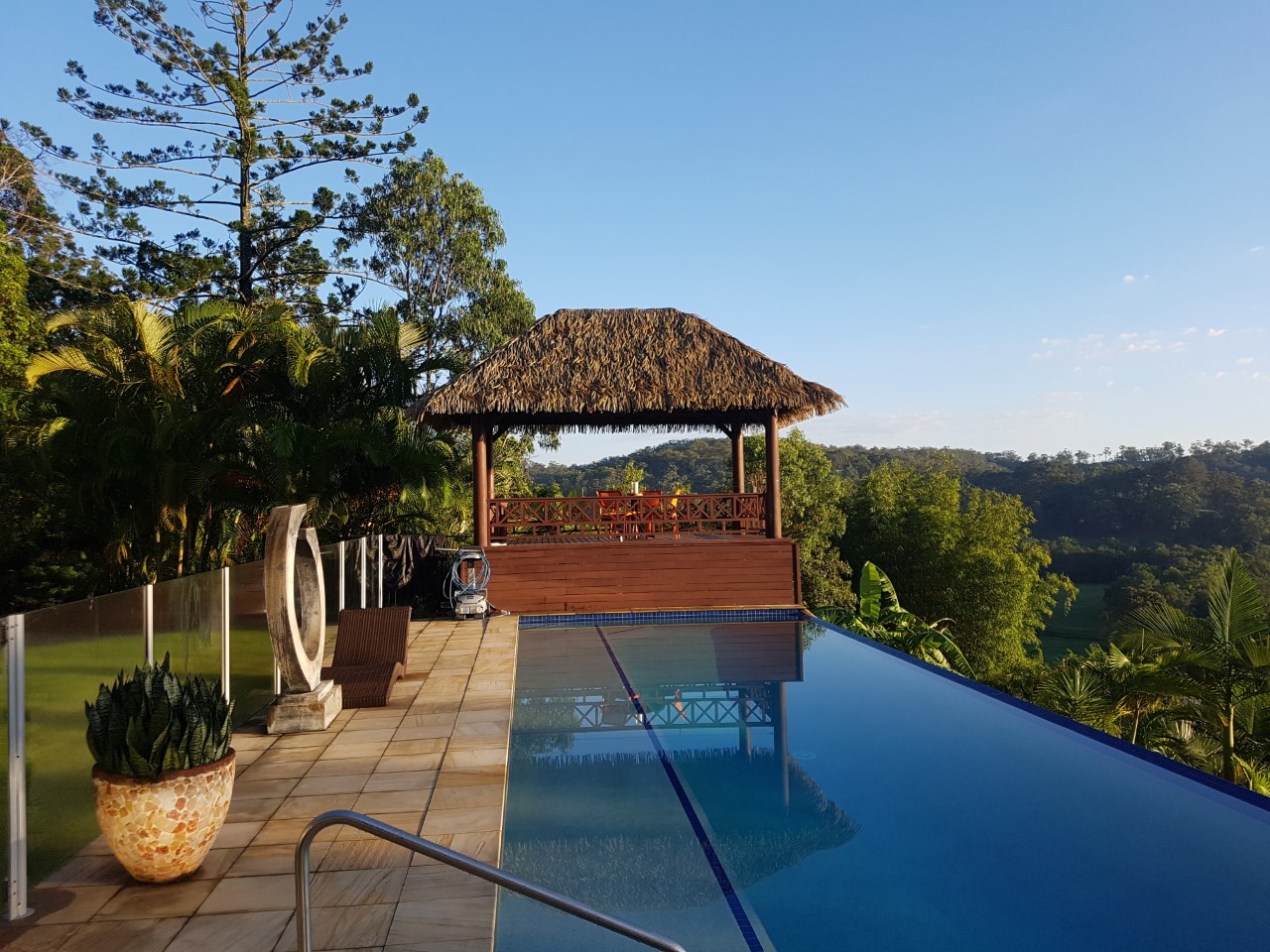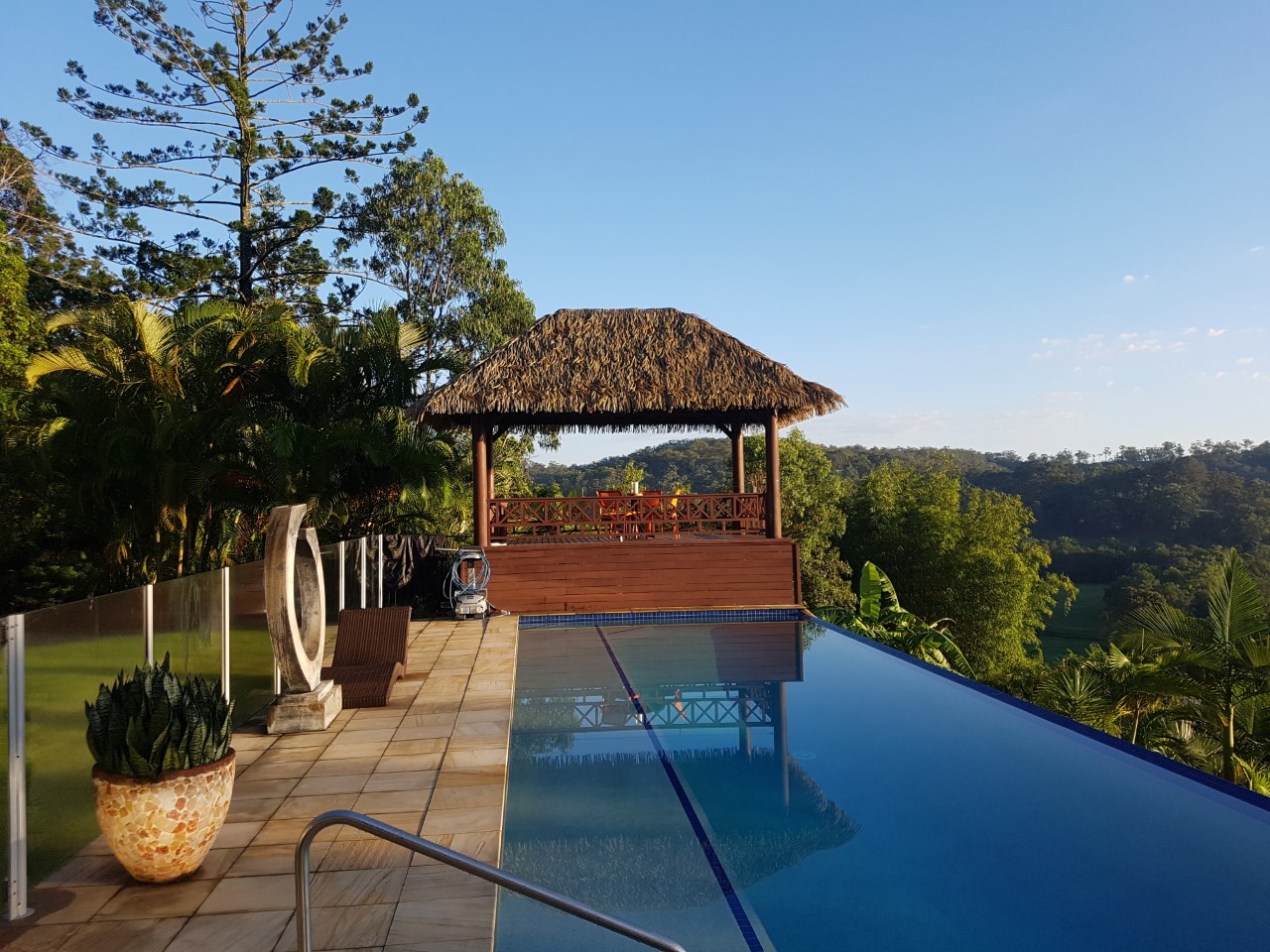 PIGGABEEN – LOUISE
Imported as a kit, this Bali hut was asembled on site. Natural grass thatching (alangalang) had been originally installed on the roof, but soon after, it began deteriorating, as birds took a liking to it, creating large holes. Built on a high platform, the hut was also exposed to strong winds which resulted in much of the thatching either landing in the owners' pool or in the next door neighbour's yard. As a result, the hut was in a very sorry state of repair and in desperate need of a long term solution. Louise contacted Peter at Palmex, who removed and disposed of the old thatch and had his team install a brand new Palmex thatch roof. The hut is now restored to a very attractive tropical style Bali hut. The owners are very happy because it is so aesthetically pleasing, but also because it is strong and stable, needing no maintenance.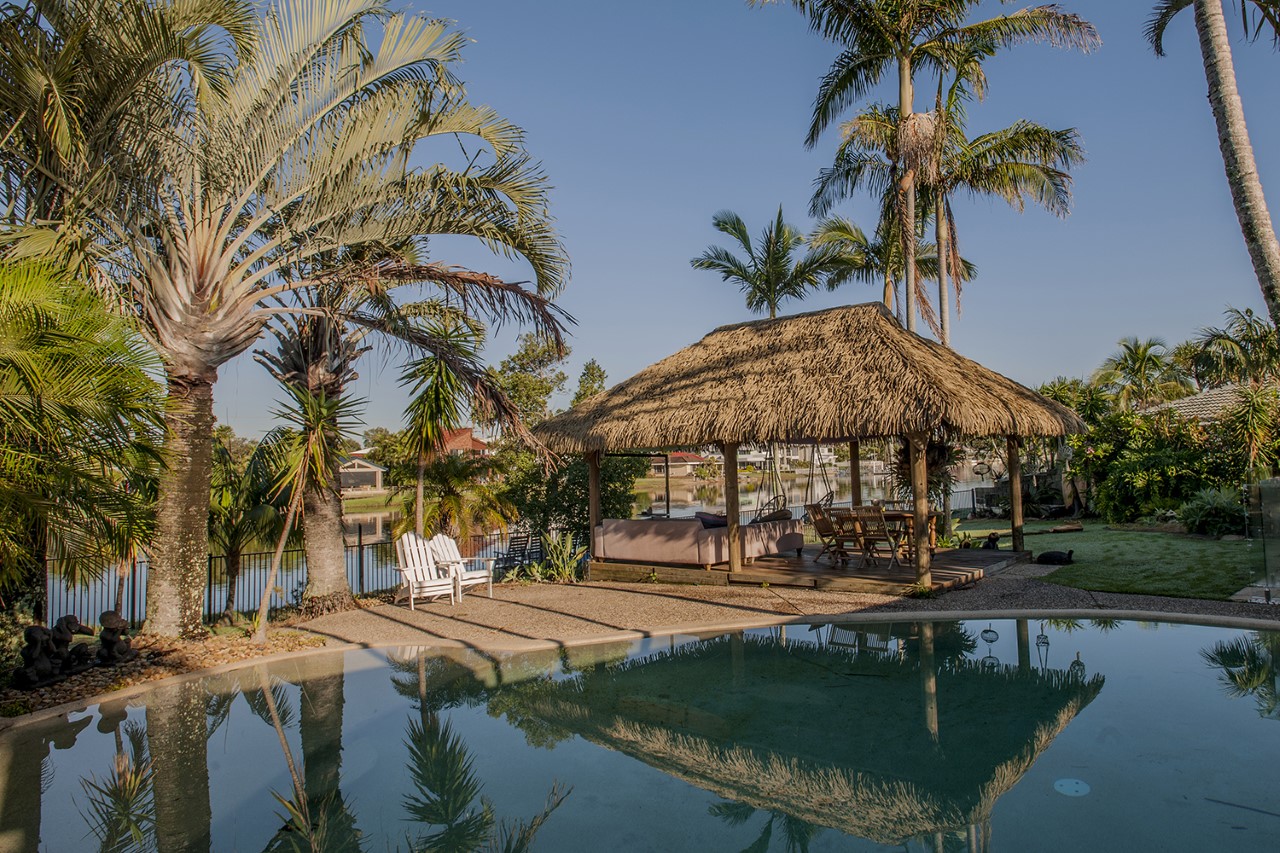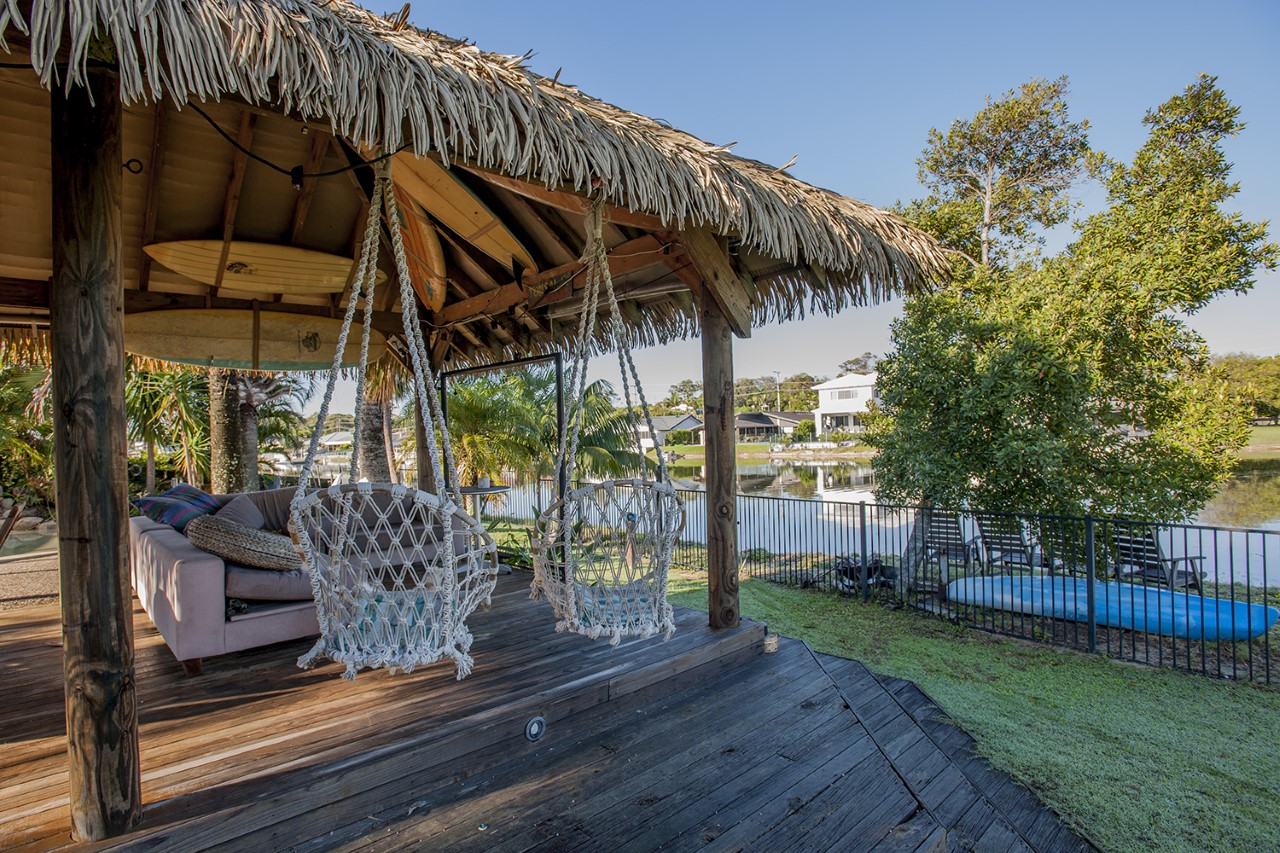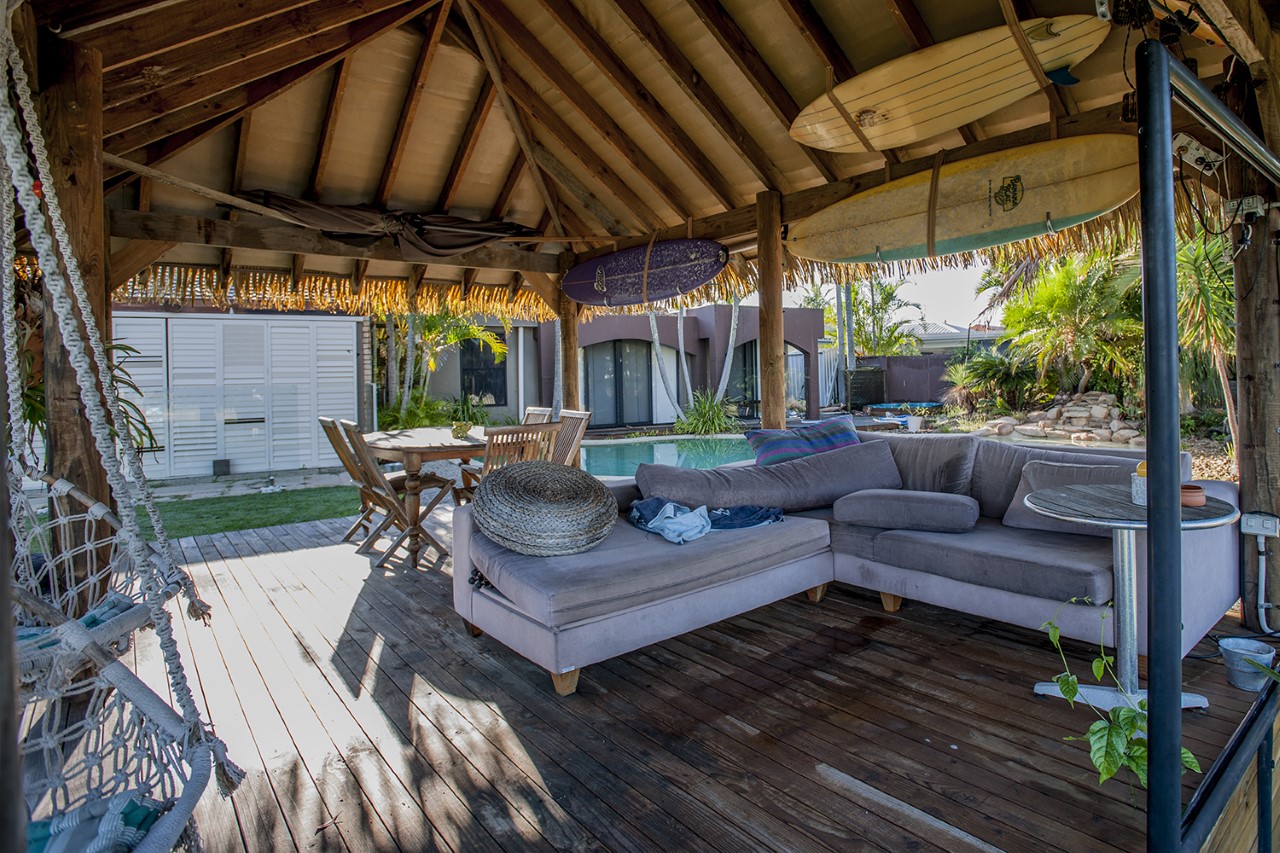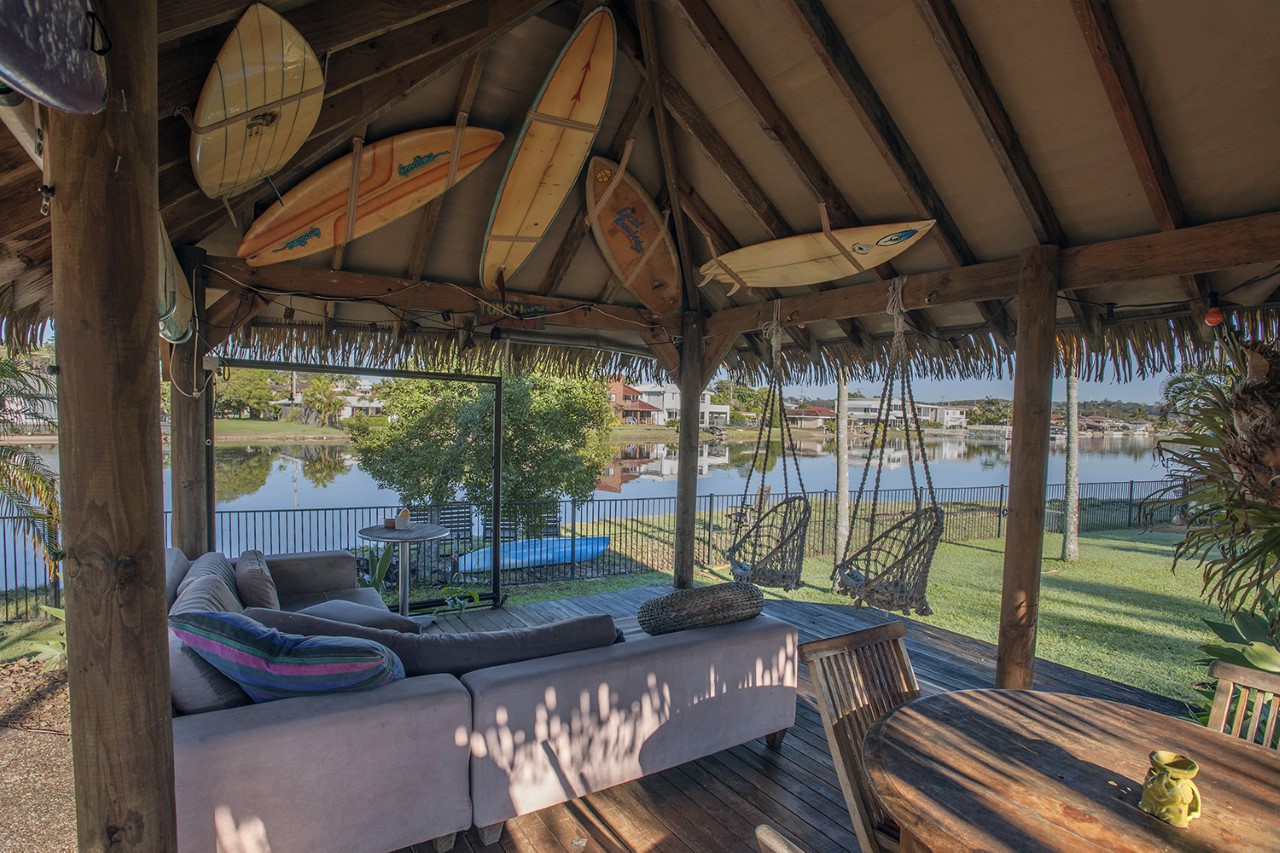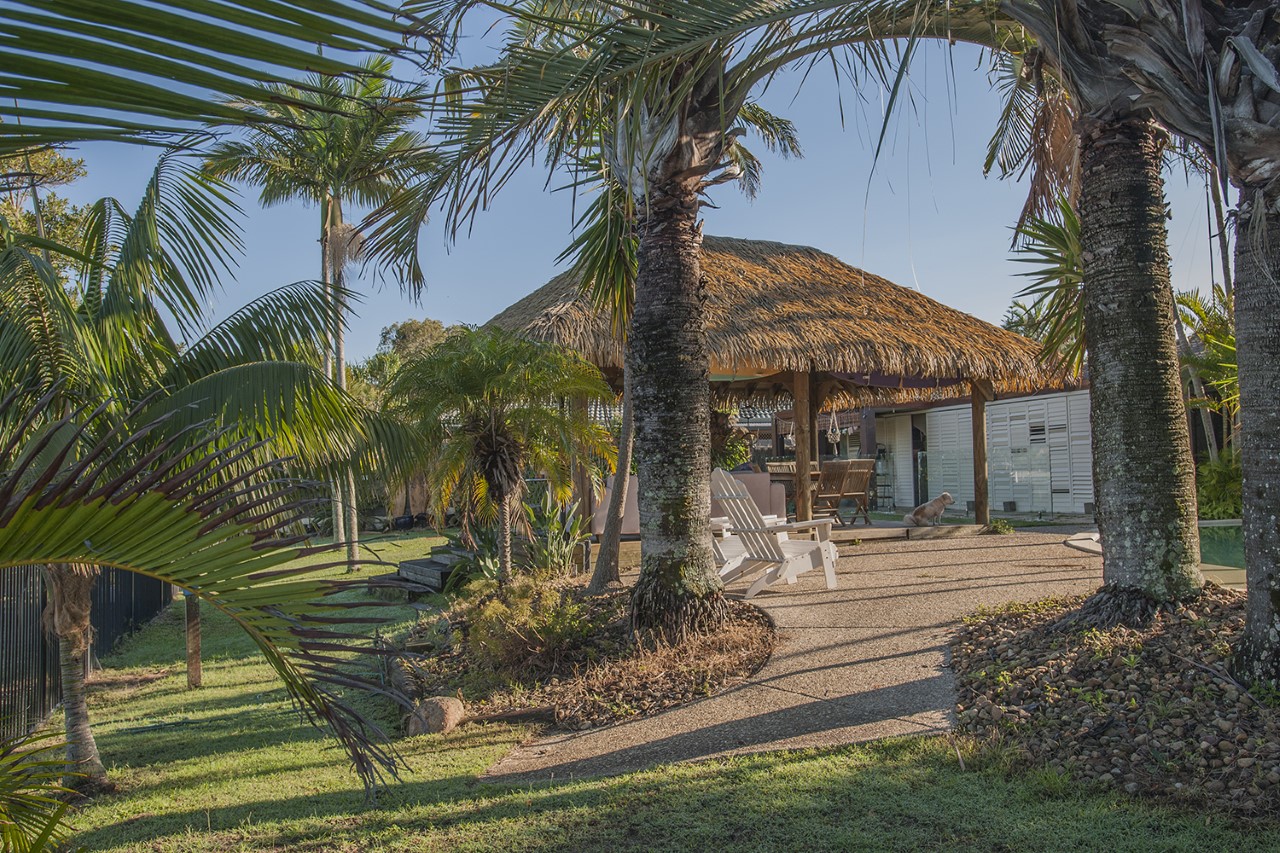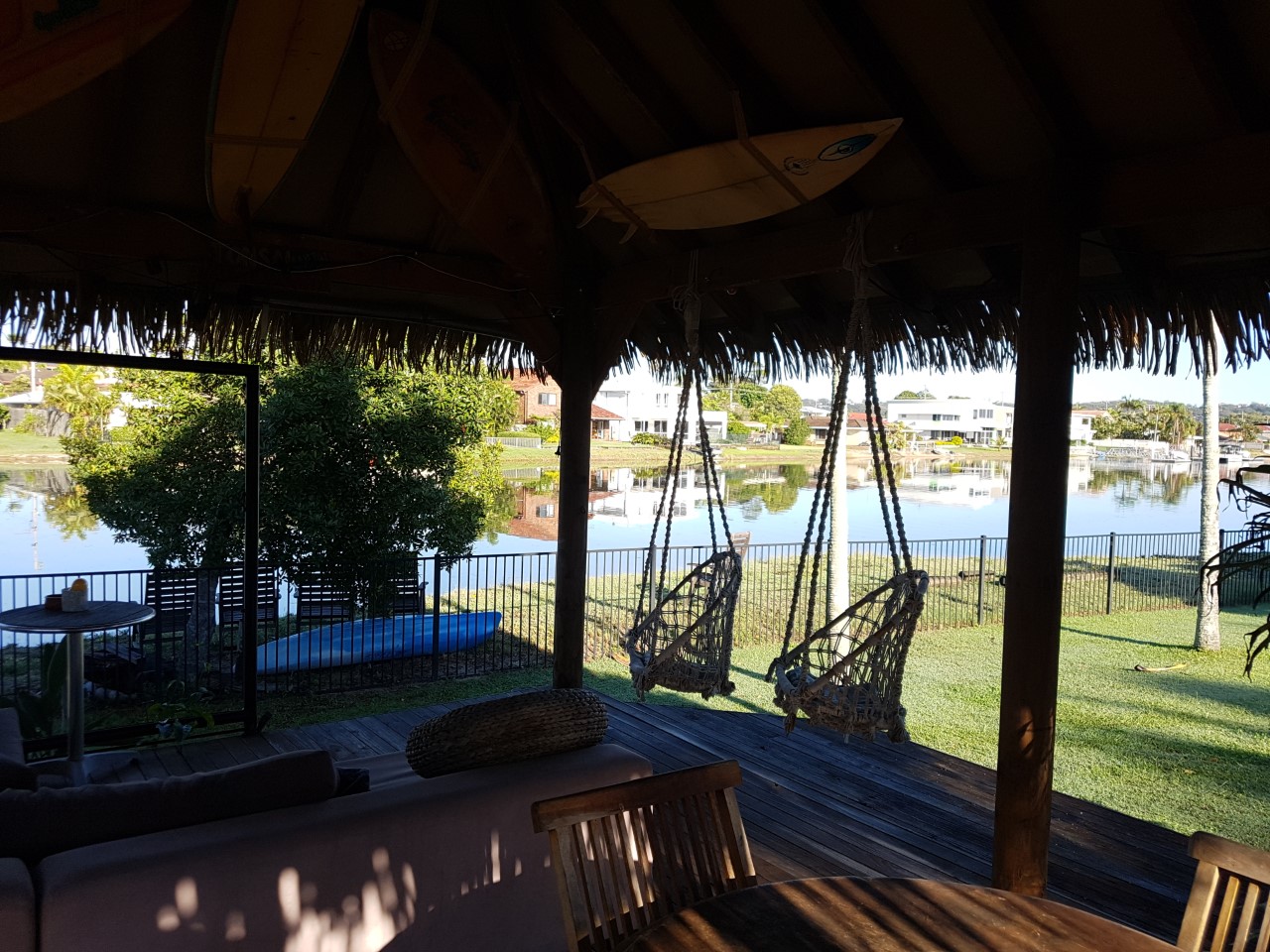 PALM BEACH – DARREN
This Riverside Bali Hut had a canvas covering which was covered in mould and bird droppings, so was very dirty and smelly. It was most unattractive and spoilt the tropical look of the backyard and pool. The Palmex team removed and disposed of the old roof and in a day, installed a brand new Palmex one.The owners are thrilled with their new thatched Palmex roof, as there is no daily maintenance or cleaning and they are the envy of their surrounding neighbours.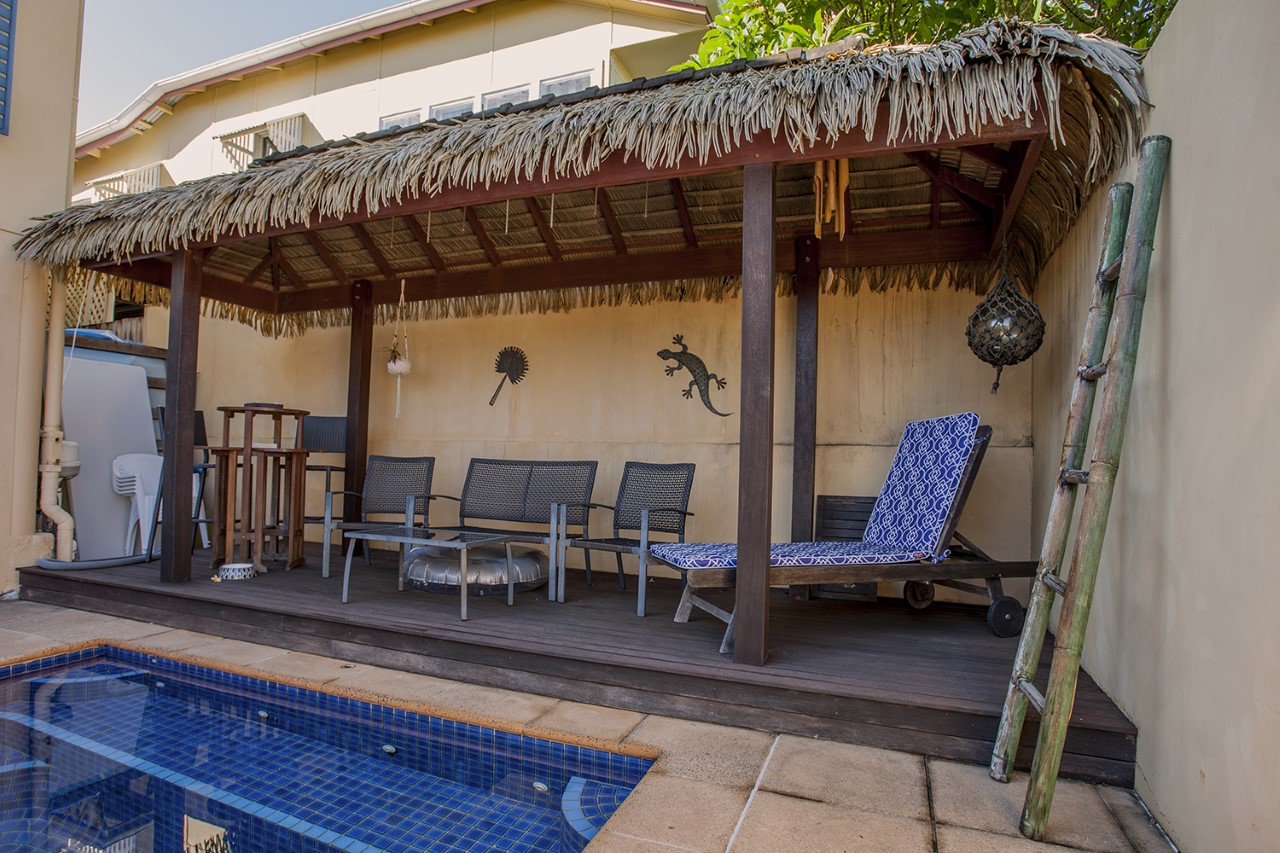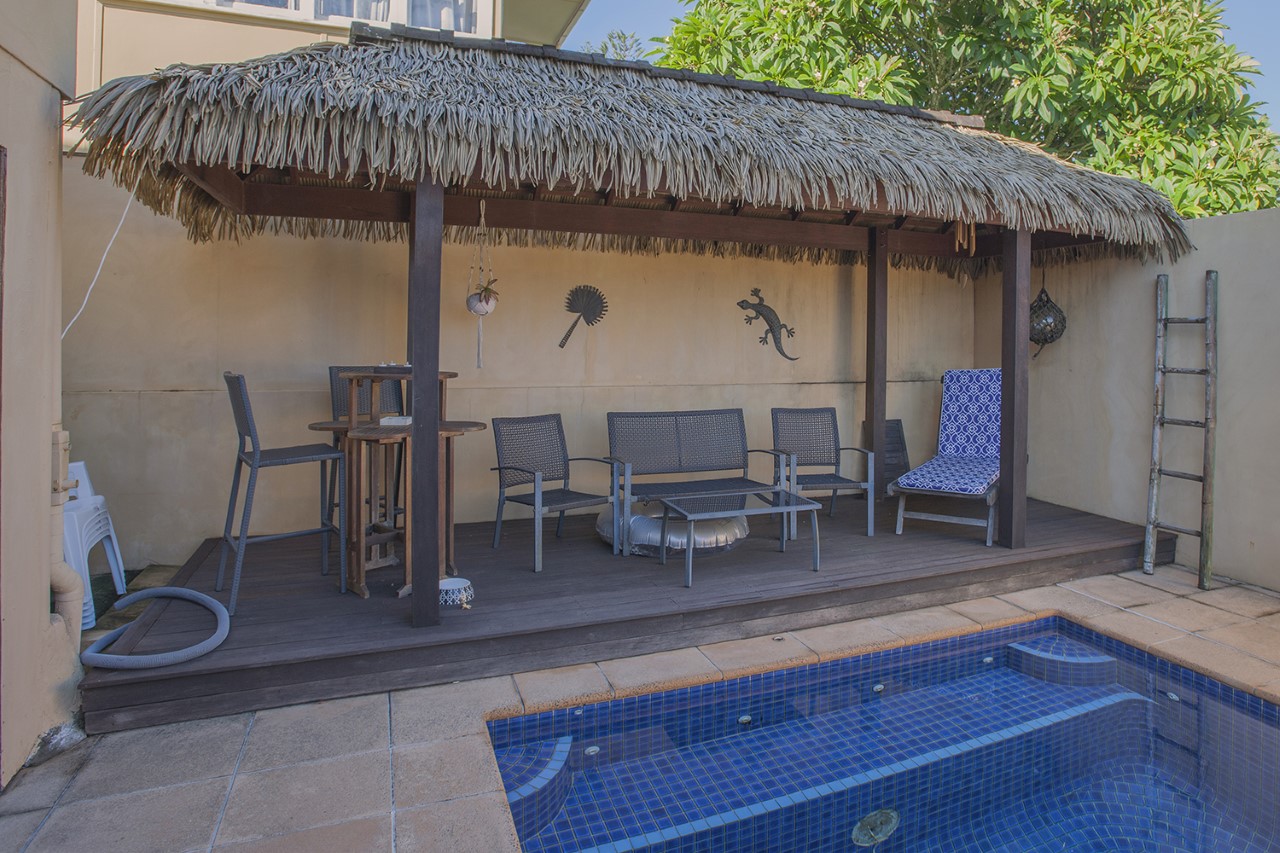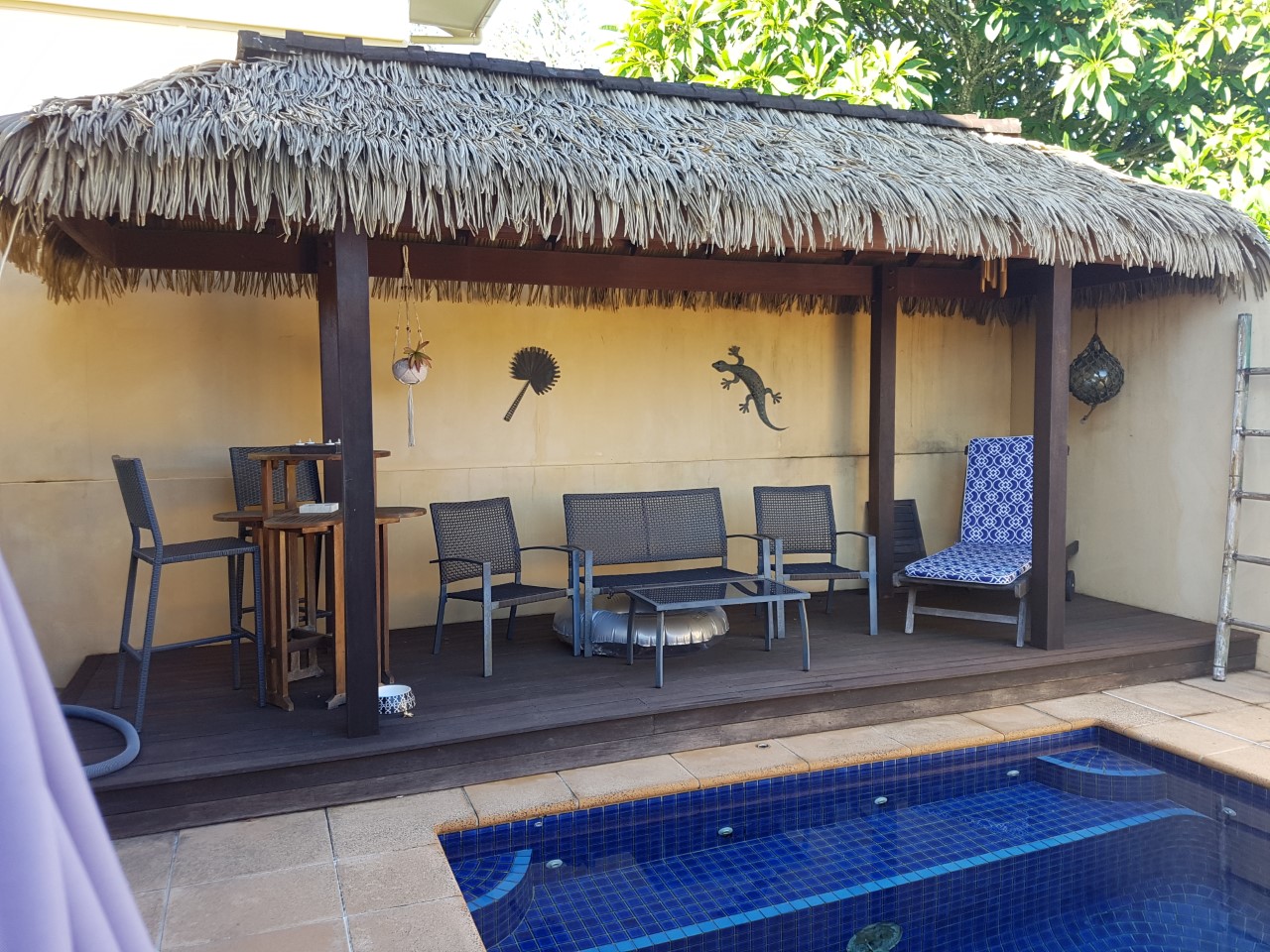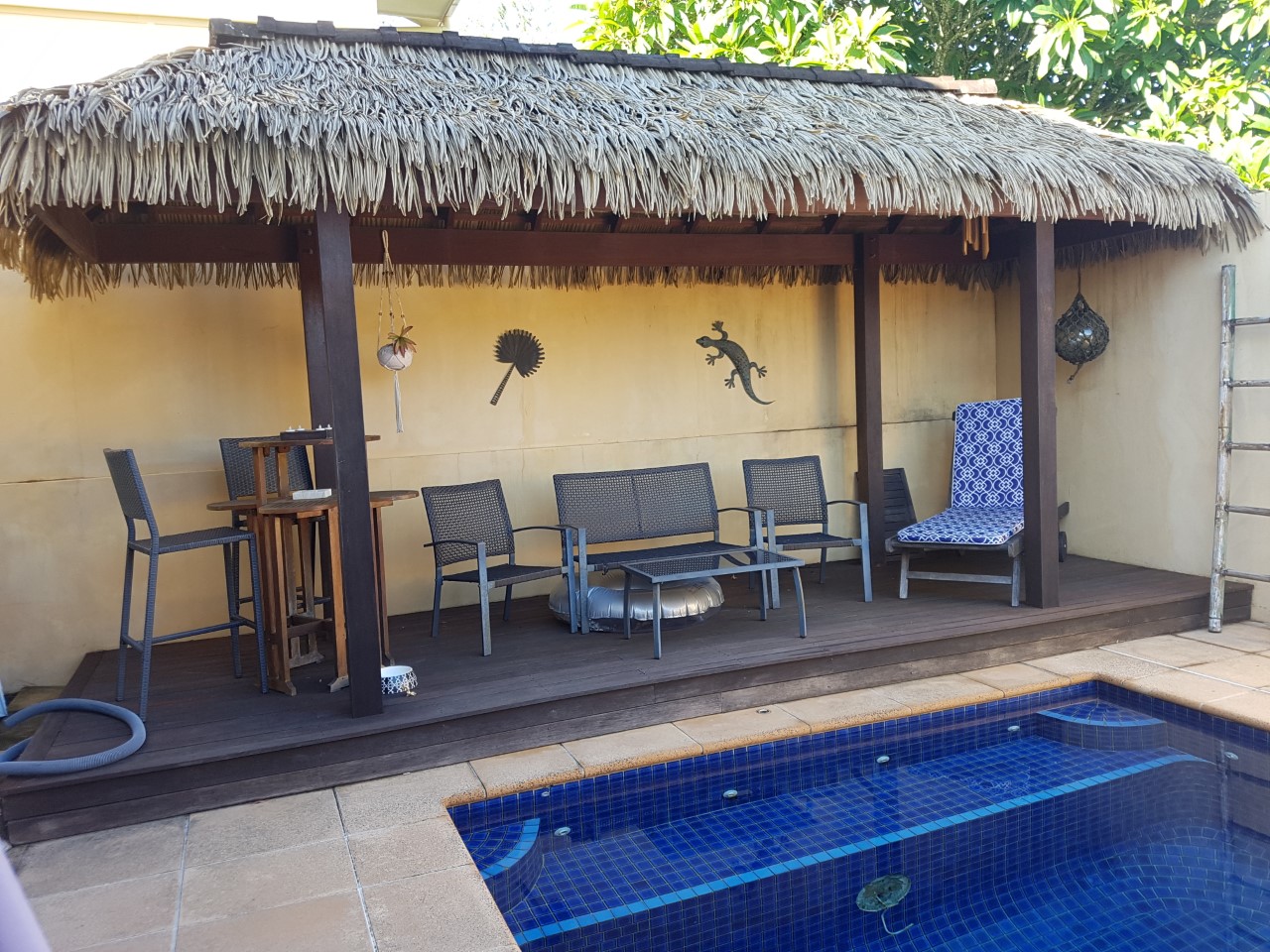 COOLANGATTA – BRAD
The alangalang (grass thatch) of this poolside Bali Hut,which is the Owner's private haven, was constantly ending up in his pool. This resulted in his pool filter becoming clogged and burnt out. Brad became fed up with the amount of time spent cleaning up around it and was thus very interested to hear about the Palmex product from a work colleague. The team went out and quoted and within a week had installed for him a brand new thatched roof. With no more daily maintenance, the owner now has more time to relax and enjoy his reading, music and red wine,whilst being forever protected from the elements.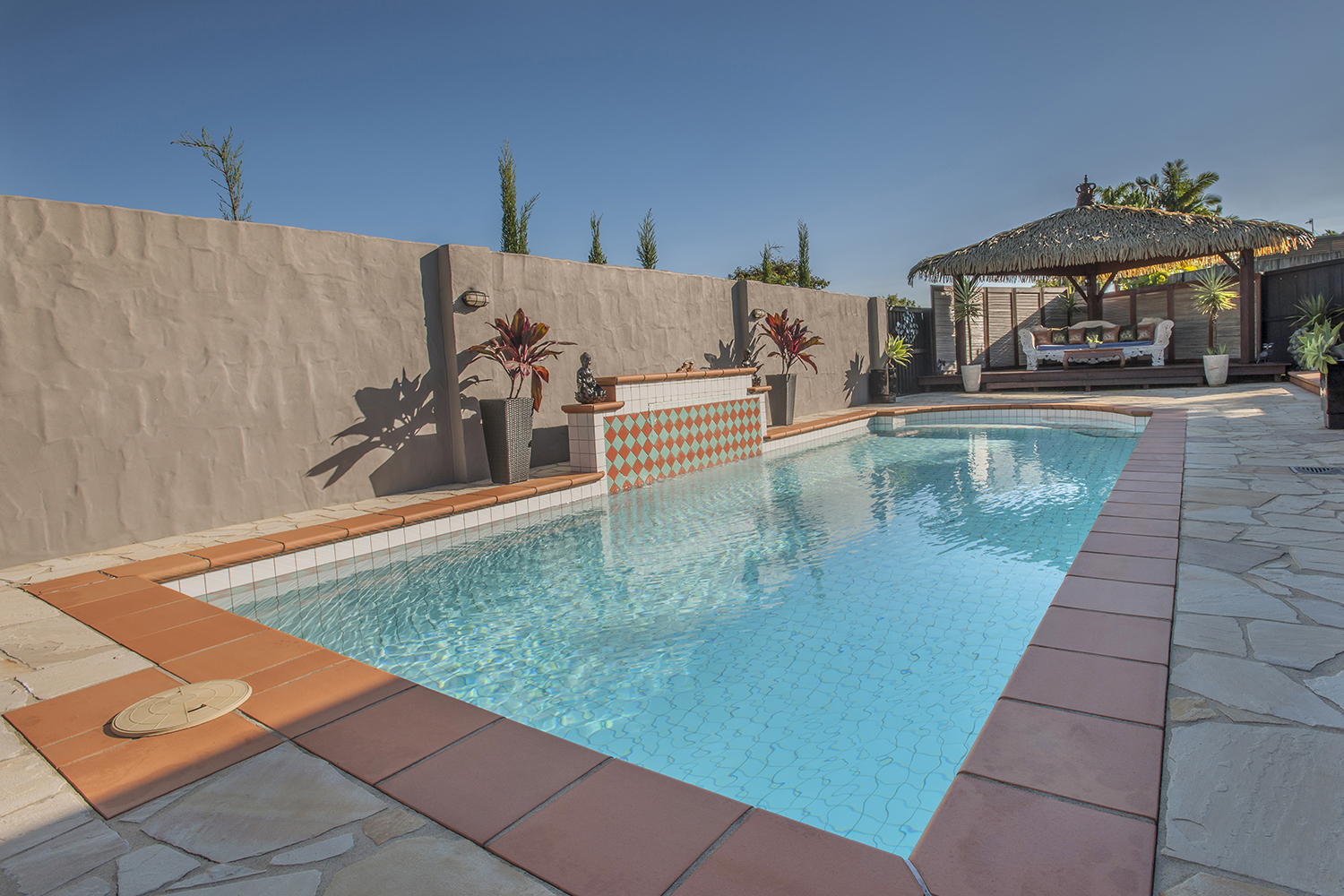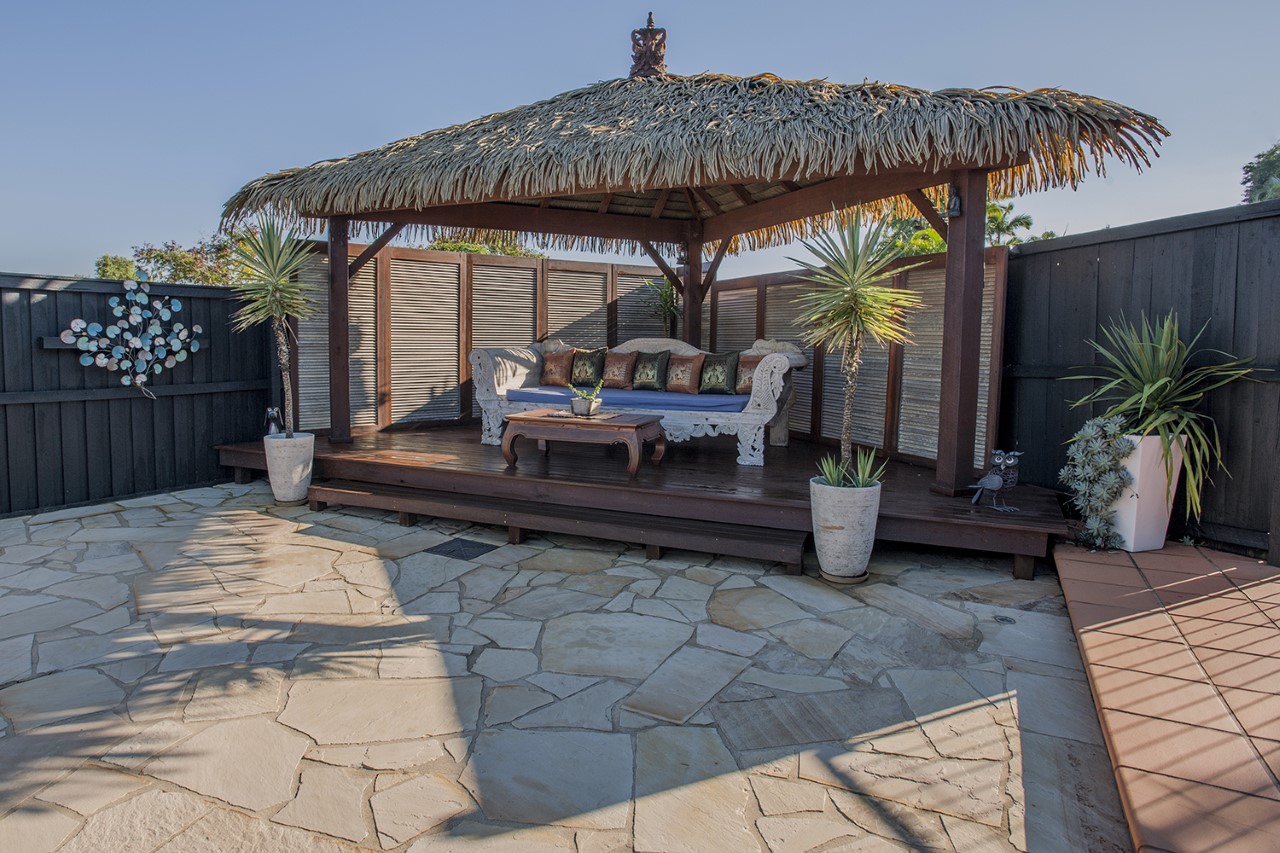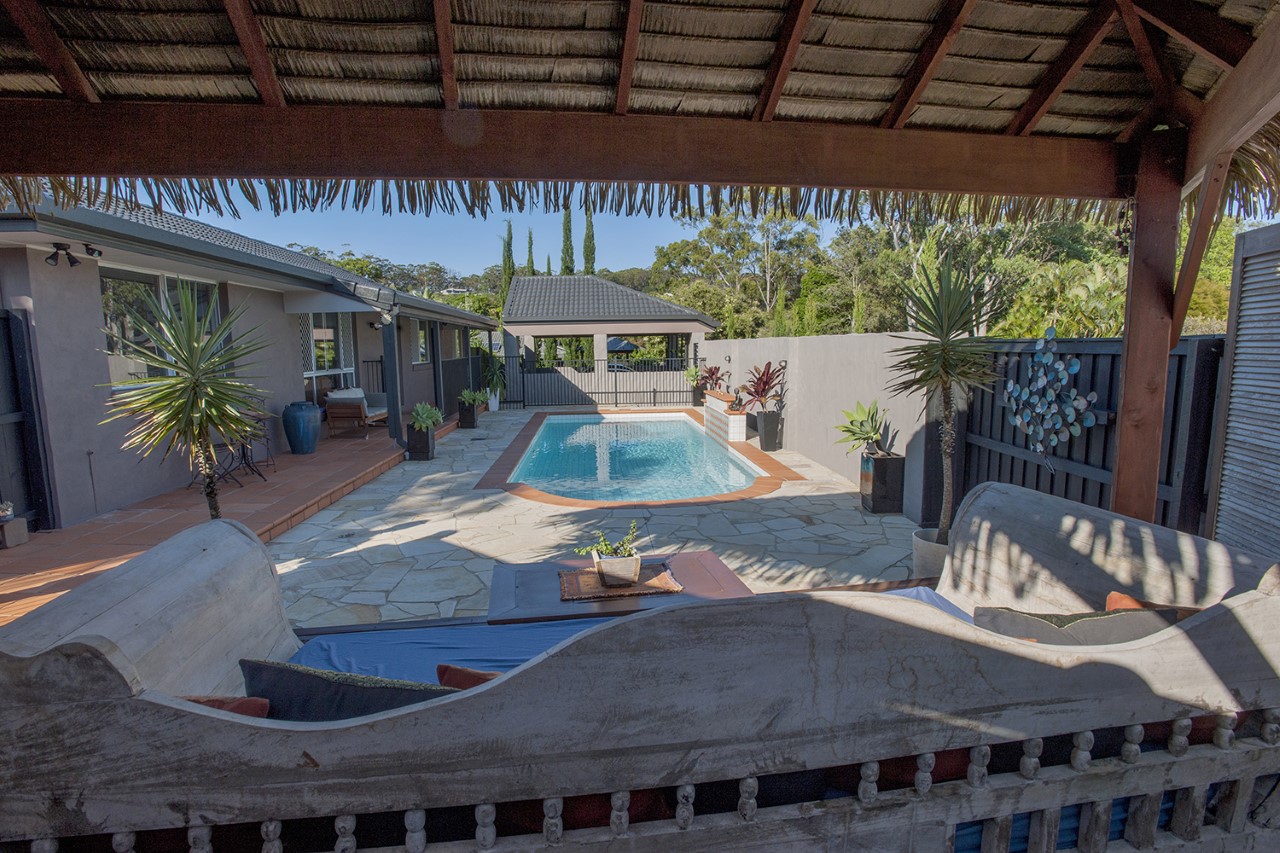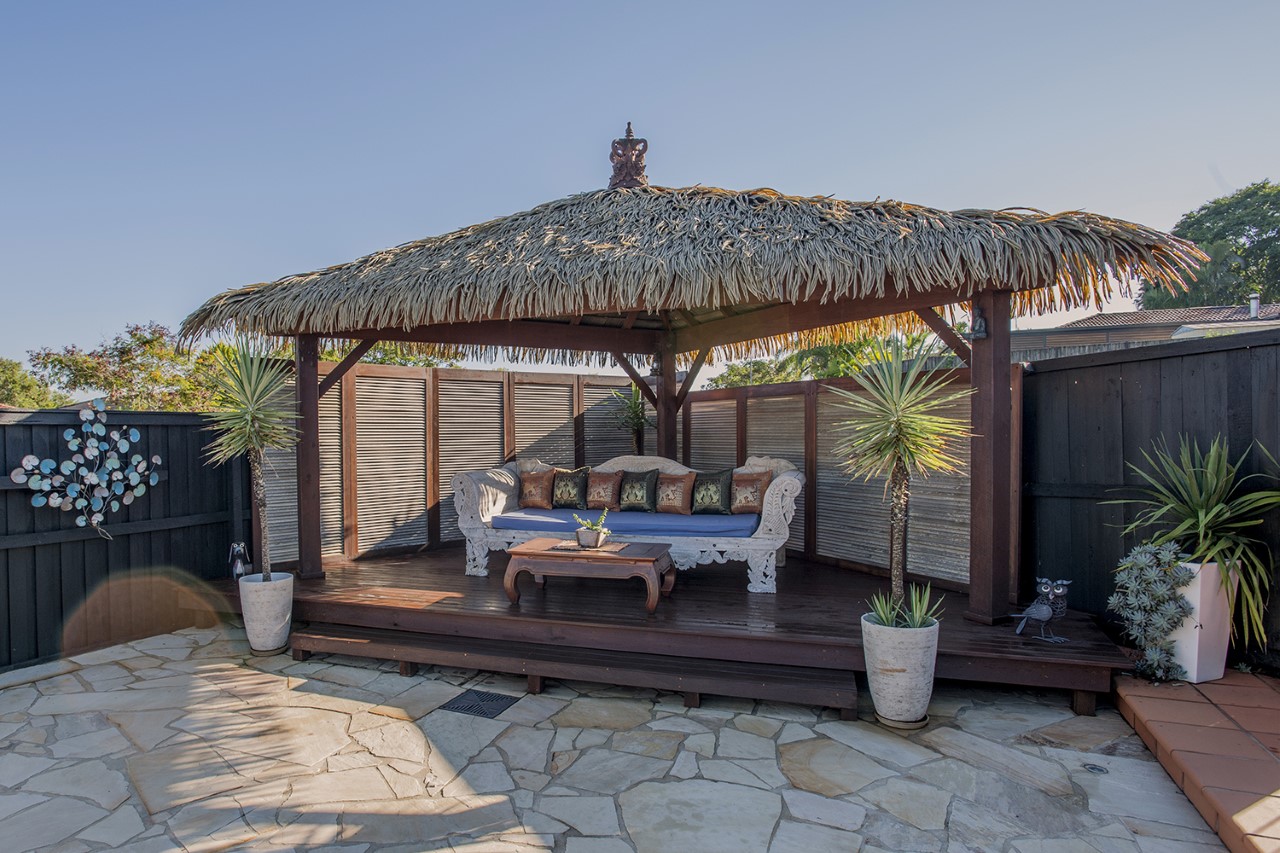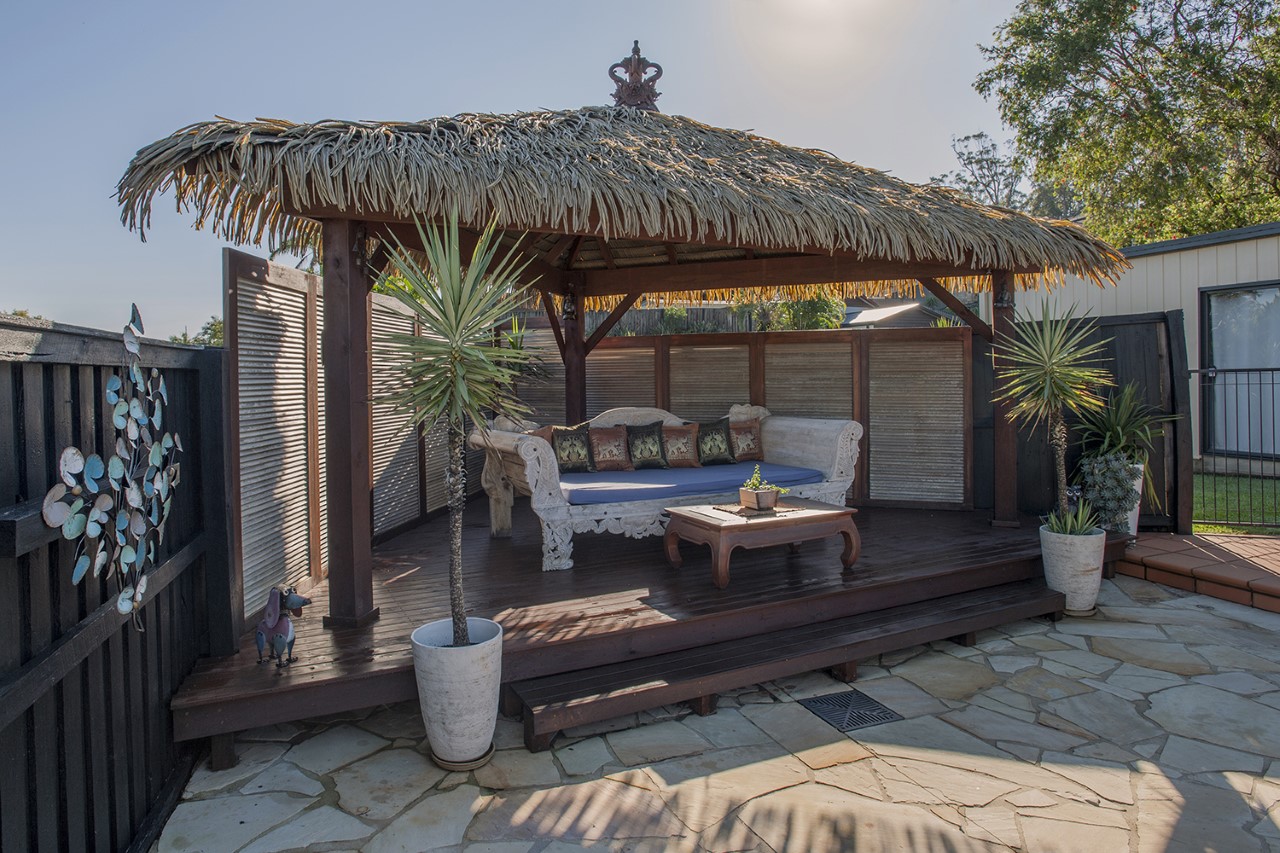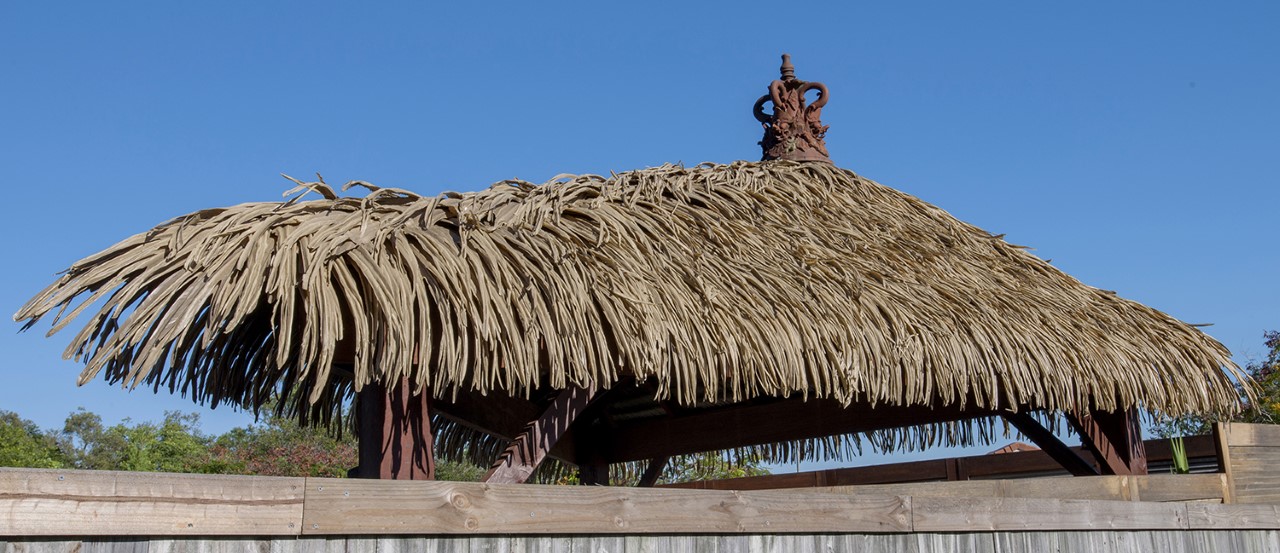 CURRUMBIN – ANDREW
This poolside Bali Hut is an irregular shape and was constructed to fit the site. During an electrical storm it suffered major damage to its grass thatching (alangalang) and was leaking badly, totally destroying the expensive furniture, lighting and sound system. The old thatch was taken away and Palmex was installed. Because the product is 100% waterproof, the owners were able to replace the damaged items with full confidence that their previous experience will never be repeated. The owner told Peter he wished he had known about the Palmex product years ago.
NEED TO REPLACE YOUR OLD GOLD COAST THATCHED ROOFING
You should Palmex It! 20 Year Warranty

" Peter at Palmex provided service above and beyond to accommodate our requirements.  He is very professional and friendly.  Wayne's excellent workmanship was wonderful to see. His standards demand precision at every stage of the build. The installation was very quick and the results speak for themselves.  The spa area next to the pool looks a million dollars now - adding to the resale value!  Thank you.  We have recommended the product to friends - it's standing up to the test of the rigours of the wet in tropical North Queensland and gives much needed shade."
Heather Sanders
Cairns Qld

Palmex provided an excellent quality product that was perfect for our Aged Care project on the Sunshine Coast. The product was easy to install, looks great and our client was very pleased with the result.
John Nosworthy
Boyds Bay Landscaping, Tweed Heads NSW.

We had the pleasure of having Palmex install our new roofing on our Bali Hut.  The workers were all highly competent and dedicated to their jobs, which they performed with much enthusiasm The completed project was amazing to look at  and the end result was fantastic; completely weather proof with no little birdies able to make their nests. We strongly recommend Palmex to anyone wanting a superior weatherproof thatched roof for their Bali Hut. Its natural look will  enhance any pool area or property. Guaranteed for twenty years.
Lynn and Colin Wade
PiggabeenNSW

I approached Peter at Palmex after having spent years fishing out old rotted natural thatch from my pool. When the roof on my hut also started developing holes and became home to a nice little family of rats, I decided enough was enough. Peter's team removed the old thatch quickly and efficiently and disposed of it. They replaced it with Palmex, all in a day. I wish I had done this years ago. My Bali Hut looks brand new again and the effect is incredibly natural. Peter was not only reliable and professional but his workmanship was top class. It is a truly wonderful product. I couldn't be happier.
Dr D.S
Broadbeach Waters, QLD
Is Palmex a well established and reputable company?
Palmex Australia is the authorised Australian distributor of Palmex Thatched Roofing. There are 76 distributors worldwide, with the parent company based in Quebec, Canada.
Palmex is manufactured under license in Thailand, primarily servicing the Southern Hemisphere.
Peter is the owner and Managing Director of both Palmex Australia and Palmex Oceania (Fiji Pte.Ltd), which has been operating since 2011.
What guarantee do I have that Palmex will last longer than my old natural thatch?
Palmex is made from Industrial Strength High Density Polyethylene (HDPE) and is Ultra Violet (UV) treated, during manufacture. Other products (eg water tanks, canoes, boats) made from HDPE have a lifespan of 40/50 years.
Palmex has a lifespan of 50 years also.
Natural thatch breaks down and needs replacing every five years
When you have Palmex installed, you will receive a written 20 year Manufacturer's Warranty .
Will Palmex come off in strong winds?
No!!  Palmex is certified to resist winds of up to 240kms/hr! Indeed, Palmex resisted  STC Winston (Category 5) in Fiji in 2016, with recorded gusts of up to 285km/hr.  For geographical areas known to experience severe weather conditions, we can install Palmex Wind Clips, which provide extra protection against weather surges.
Is Palmex really completely waterproof?
Yes!! Palmex provides a 100% waterproof roof.
This is a fantastic advantage over traditional thatch which tends to break down much more easily, leaving holes for rain to penetrate. Whereas traditional thatch leaks around the ribs and hips of the roof, Palmex forms a watertight barrier over the entire area. This means you can enjoy your Bali hut in all weather conditions and your furniture and outdoor electricals  will be completely safe.
What do we have to do to maintain our Bali Hut once Palmex is installed?
Nothing!
Palmex is virtually maintenance free, but we do suggest a hose down every 12 months or so, to remove any airborne rubbish. It will not leak, it won't breakdown  flinging material into your pool and it never needs replacing or repairing. You will be worry free!
Does Palmex attract mice and other vermin, like my natural thatch?
Palmex is not attractive to  birds, mice and other vermin.
One of the  great advantages of Palmex over natural thatch is that it is clean to install and clean to live with. You will have no need to worry about germs and bacteria from nasty, unwanted little visitors!
Does it fade or shed?
Palmex does not shed, so will not make an unsightly addition to your sparkling pool or surrounds, as is so often the case with natural thatch. It will maintain its lustrous fresh look from the minute it is installed.
Palmex will fade slightly, over time (up to around 5% after a number of years), but the whole roof surface fades together, so there is no patching.
Does it look authentic?
Palmex has replicated natural palm leaves which, when installed, provide an authentic and aesthetically pleasing tropical roof. All our clients have been delighted with the result and comment on how natural it looks- it's like having their own tropical paradise!
Can I use Palmex to patch up the holes in my existing natural thatch?
No. Palmex is a patented, complete roofing system and cannot be used to patch a natural thatched roof.
All natural thatch must be removed before we can install Palmex, which can either be undertaken by the client or by our Installation team. There will be no risk of future holes once Palmex is installed.
How long does will it take to install Palmex on my Bali Hut?
Our qualified Installation Teams can usually complete the average sized Bali Hut in ONE day (weather permitting).
Larger jobs may take 2 to 3 days depending on location, the size and complexity.
Can I have the whole hut and roof custom built?
You certainly can.
Palmex Australia can build your dream Bali Hut/Gazebo from the ground up.
Call us to visit the proposed site and we will provide expert advice on what size and style  would best suit your wishes.
As a One Stop Shop, you  will be given a Quotation for your whole project. 
I'm a bit of a handyman- can I just buy the product and install myself?
Yes. Provide us with the dimensions of your Bali Hut Roof and we will provide a quote to supply only (to anywhere). There are many YouTube Videos available to show you the Installation Procedure, as well as a detailed Installation Booklet  showing step by steps.
However, if the installation is not undertaken by an authorised installation team, we  cannot take any responsibility for leaking or poor workmanship.